Come across this article due to you have forgotten your Windows server 2008/r2 administrator password and tried lots of methods failed. The reason is that your computer worked with Raid Controller which is different from common server computer.
This article will show you currently the best way to reset Windows Server 2008 administrator password on Raid controller for Raid 0, 1, 5, 6, 10, 50, 60 without data loss. Works with any type of Raid Card, such as IBM Server RAID , HP Storage Works, Adaptec Raid Controller, Dell PowerEdge RAID Controller, ThinkServer RAID ect.
Spower Windows Password Reset Raid is designed to reset forgotten password for Windows 10, 8.1, 8, 7, Vista, XP, Server 2012/2008/2003/2000, especially for resetting lost password of Windows Server 2003/2008/2012 on RAID 0, 1, 2, 3, 4, 5, 6, 10, 50, 60, 1+0/0+1 storage. There are only four steps to reset forgotten Windows server 2008 admin password:
Step 1. Purchase Windows Password Reset Raid full version (we don't provide trial version for this Edition) and install it on another computer which you can login as administrator..

Step 2. Run the software to create a password recovery disk with CD/DVD/USB flash drive.
1. Insert a bootable CD/DVD/USB and choose the right media type.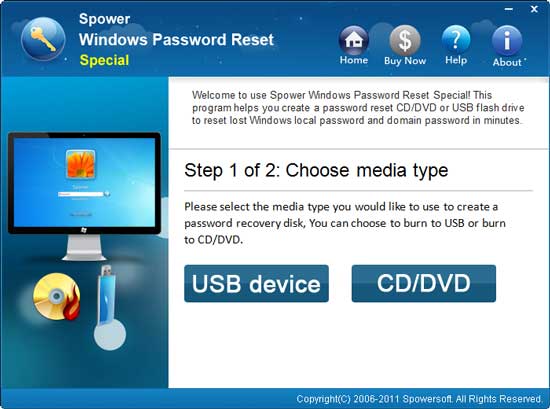 3. Select your drive name from the pull-down list, click Begin Burning Button. You need about 1 minute to complete the burning.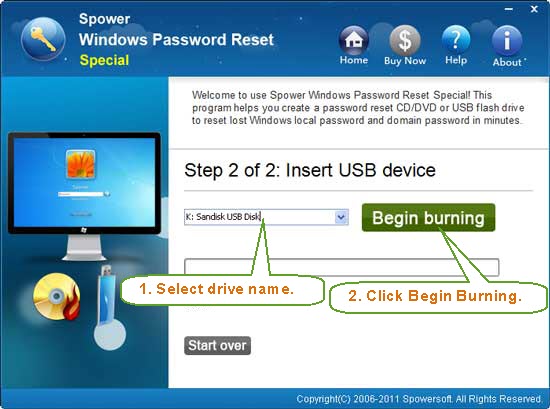 Step 3. When you complete the burning process, take out the password recovery disk and transfer it to your Server Computer. Set your Server Computer to boot from the CD/DVD/USB.:
How to set computer to boot from CD/DVD-ROM.
How to set computer to boot from USB Drive.
Steo 4: When your computer boot from the password recovery disk, the Windows Password Reset Raid will run automatically and shows you a friendly interface on your screen. .
1. Windows server 2008 administrator will be shown in list, click it.
2. Click Reset Password button, when a confirm message pops up, click Yes and the administrator password will be reset to "Spower@2011"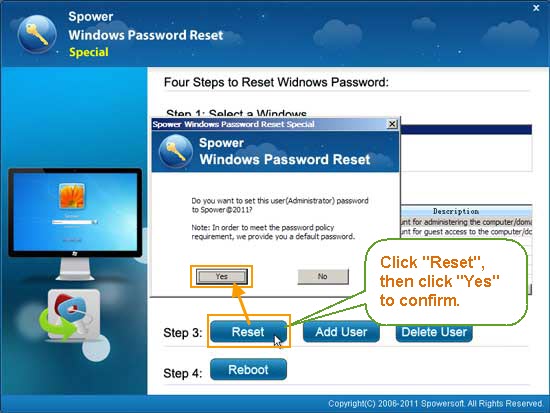 3. Administrator password has been reset to new and shown in list.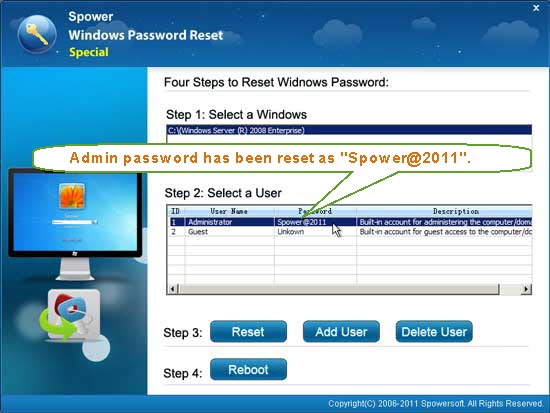 4. Click Reboot, when a confirm message pops up, eject the CD/USB first and click Yes. After restart, you can login your server 2008 with the new password.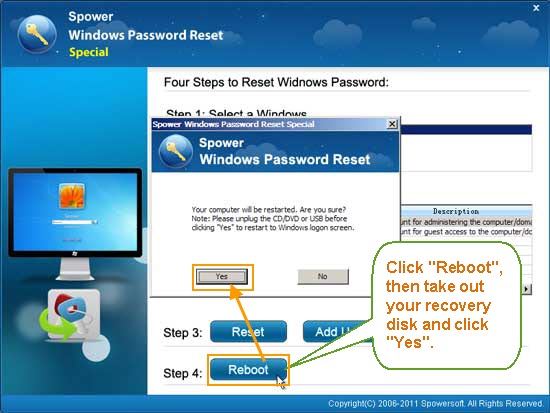 Note: Only the Spower Windows Password Reset Raid Editioncan help reset WIndows password on Raid Controller. If you want to reset local/domain administrator password for Windows server 2012/2008/2003/2000 on a computer without raid controller, you can choose Spower Windows Password Reset Ultimate.